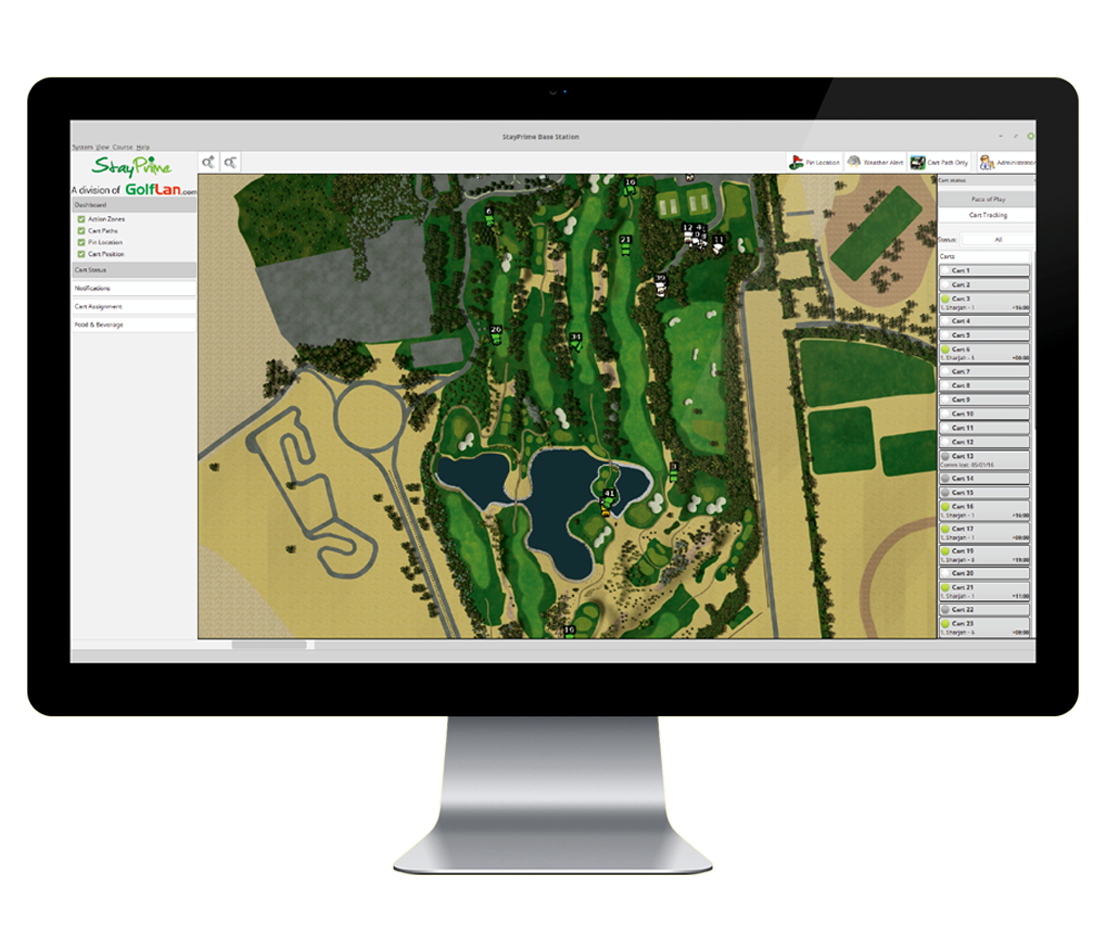 Track and manage both walkers and carts, monitor Pace-of-Play, received F&B orders, weather alerts and more -all from your office or mobile device
Define holes and zones, restricted areas, average playing times, Pro tips, alert messages and advertising across the full golf course(s) from one panel
Receive and send messages to golfers, enable/disable weather alerts, manage notifications from carts and walker and track user history from the BaseStation hub.
BUILT FOR MANAGING REMOTELY Specifications
ELITE PRO+ GOLF CART ONLY DEVICE - SPECIAL FUNCTIONS

IP68 rated cart only devices FIX on golf carts to monitor their vitals while allowing a seamless golfing experience on-course. Installs on any FLEET.

CART Kill and Cart Path only modes available - controlling the movement of carts has never been easier. Stop carts automatically in restricted zones!
The devices have their own battery and charge with the cart at night! You can monitor the rounds done to decide when to buy new tyres or change the battery.
STAYPRIME LITE
StayPrime Lite is a Golf Mobile- Platform that provides a Customized Mobile APP
for your own golf course.
With StayPrime Lite, you will get a robust and customized mobile application to automate and enhance the golfing experience.
Inclusive of many features like 24/7 Tee Time Booking, Course GPS, Scorecard Submission/Retrieval and Social sharing,
what you can expect is a best-in-class golf course application.
24*7, Online booking made extremely simple (Less than 30 Secs)
Submit, Retrieve & Share your Scorecards as and when required by you
Had a fantastic round? Share it with the world on any social media platform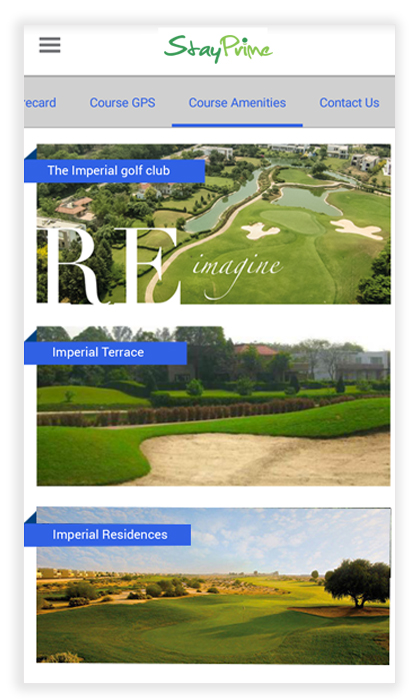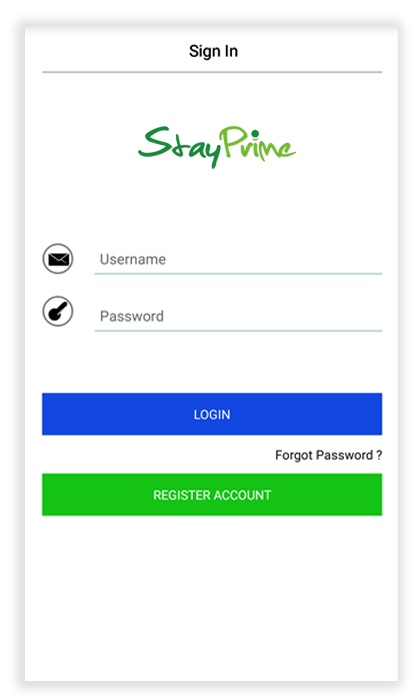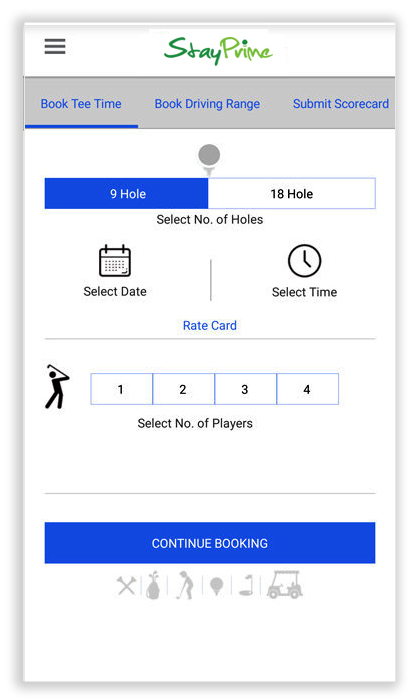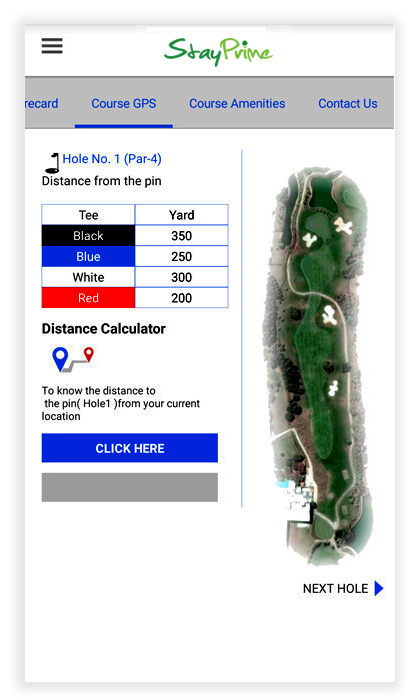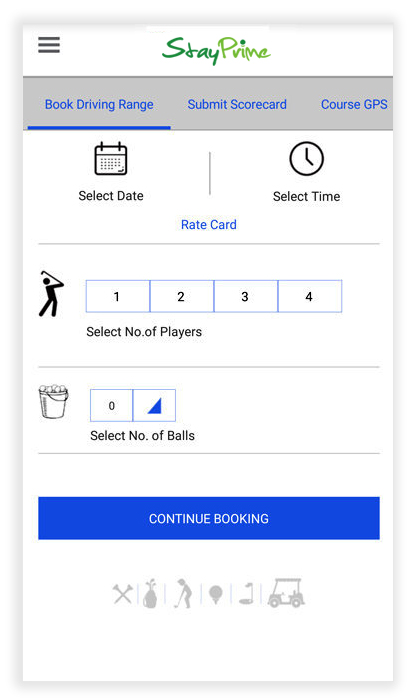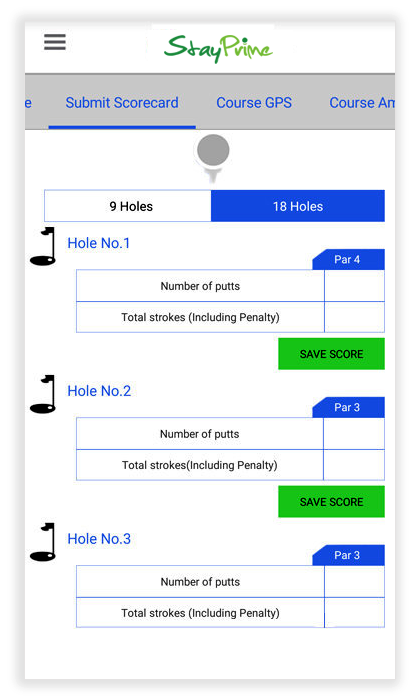 Precise yardage on every shot and a detailed explanation on how to play the hol
Don't Miss any special offers or promotions. Get real-time updates!
Get to know your course better, all details now at your fingertips
Why StayPrime?
Offering class leading Android devices, cloud based management panel and a highly trained customer service team.
Founded in 2006, with 3 generations of devices produced, we have ample golf experience with complementing technology expertise.
Use any golf cart brand, even a mixed fleet or play with the buying package -we make it all available for you.

Lowell Weaver ll
General Manager, The Medallist Golf Club, USA

We could not have asked for better service. StayPrime never wavered on their promises. We have been able to track our extra revenues generated and cost savings so far and feel that they have exceeded $6,500 just from the "extras" let alone the fact that we have had many people tell us how much they love the units which we are sure have increased their frequency of visits.


Mike Silver
PGA Master Professional, Highland Golf Club, London, Ontario, Canada

We are now one year in with the StayPrime cart management and cart GPS system. Our members love the system and as far as I am concerned, there is only one GPS system on the market.


Mark Bierton
General Manager, Luton Hoo Golf Resort & Spa, England

We have recently installed the StayPrime Elite Pro+ golf cart management system for our fleet of carts. The system has allowed us to monitor the progress and pace-of-play of our guests from the club shop and ensures that our course marshals are directed to those guests that need assistance. The opportunity for sponsors and corporate partners to promote their brands on the carts has been very popular. Although it is early days, we are very pleased with the system.


Eduardo Ruiz
Operations Manager, Club De Golf Valderrama, Marbella, Spain

We installed the StayPrime GPS system here at Valderrama two years ago, and in that time, my colleagues and I in the golf management team have benefitted from the golf cart management system, being able to monitor pace-of-play and track and control the movements of all golf carts on our property. Our members and visitors have given excellent feedback on the features for golfers and we are very pleased with the service and support we receive from the StayPrime team


Graham Callander,
General Manager, Royal Burgess Golf Society, Edinburgh, Scotland

Royal Burgess Golf Society is very pleased to be the first golf course in Scotland with the StayPrime Elite Pro+ golf cart management system. Reaction from our members and visitors to date has been extremely positive, and the team at StayPrime have been very helpful.

About StayPrime
StayPrime is the leading designer, developer and marketer of proprietary technology products for the global golf, leisure and hospitality industries. Our management team has over 250 years of combined technology, golf and leisure industry experience. We aim to make the process to play and manage golf efficient.
StayPrime products deliver more functionality that any other system and back it up with tools and support to ensure that our customers maximise their return on investment.
Our flagship product range is the Elite Pro+ Walker and Cart management system which helps managers improve efficiency and customer experience by adding automation to everyday tasks. With sensors and data collection, our smart platform converts numbers to sensible data and insights further helping golfers and management take informed decisions.
UAE:
Golflan Marketing Management LLC,
Office no. 8, 13th Floor,
Aspin Commercial Tower,
Trade Centre 1st, Sheikh Zayed Road
P.O. Box 413028, Dubai, UAE
India:
Unit no. 501, Rectangle One,
Plot no. D-4, Saket District,
New Delhi India-110017
Opposite the DLF Place Mall, Saket
Contact : +91 11-40547408
Singapore:
Golflan StayPrime Pte Ltd
11. Keng Cheow Street, #04-10,
Singapore - 059608
USA:
6211 S Fresno St,
Chandler AZ 85249,
Contact: +1 602-524-6376

United Kingdom:
Kemp House, 160 City Road, London, EC1V2NX